It is of essential importance to be able to monitor temporal and spatial dynamics of inland water quality in order to obtain improved understanding of aquatic ecosystems. Making use of remotely sensed earth observation (EO) data is an efficient and cost-effective method to assess a variety of physical and biological parameters in aquatic ecosystems over large areas. The thematic application Water Quality (WQ), developed by EOMAP, is able to map these aquatic ecosystems. Combining this application with the features of the Hydrology Thematic Exploitation Platform (HTEP) ensures EO data can be easily accessed, processed, reproduced and shared with the hydrology community. In this tutorial the functionalities and features of HTEP using EOMAPs WQ application are discovered. Chapter 2.5.1.1 discusses important information about the WQ application: the advantages of using EO data over conventional measurement methods and the currently available in- and outputs for the application. The introduction is followed by a hands-on tutorial in Chapter 2.5.2, showing you how to use this application in combination with HTEP.
2.5.1.1. About EOMAPs Water Quality App
EO satellite data for monitoring of water quality yields a wide variety of advantages compared to conventional in-situ measurements. The usage of EO data means low costs and low labour intensity, easy mapping of large areas and a high spatial resolution in contrary to conventional in-situ measurements. Furthermore near real-time monitoring is possible using satellites with high temporal resolution and physically inaccessible areas can be covered. Besides the accuracies are high, typically only 20-30% deviation from in-situ measurements.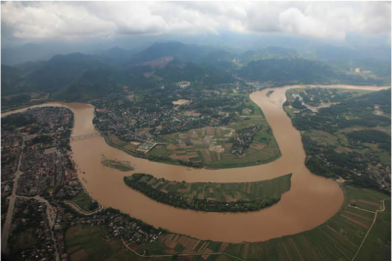 2.5.1.1.1. Water Quality Application Input
As input for the WQ application, there is EO data available of multiple satellite sensors, with varying spatial, temporal and spectral resolution. For the WQ application there is currently Sentinel-2 and Landsat-8 EO data available:
Sentinel-2 High Spatial, Weekly Temporal Resolution
The maximum spatial resolution of the output products of the WQ application is approximately 30 meters using Sentinel-2 data[1]. Sentinel-2 has a monthly revisit of approximately 5 times, meaning a weekly temporal resolution.
Landsat-8 High Spatial, Weekly Temporal Resolution
Landsat-8 has a maximal spatial resolution of about 30 meters, equal to Sentinel-2 data products. The temporal resolution of Landsat-8 is 16 days[1]. Therefore both Sentinel-2 and Landsat-8 data products are ideal for large scale monitoring of most relevant lake and river sizes. The spectral bands of Sentinel-2's sensors range between 490 and 1375 nm and Landsat-8's sensors range between 433 and 2300 nm[3] [4]. However, the output parameters of EOMAPs WQ app are based on backscattering of light between 400-850 nm, in the visible spectrum.
2.5.1.1.1.1. Influence of obstructions such as clouds on the results
Multiple considerations are needed to decide what data products are usable for the WQ app. As mentioned in the previous paragraph, output parameters of the WQ app are determined based on backscattering of light within the visible spectrum. Wavelengths in the visible spectrum cannot properly penetrate obstructions such as clouds and haze, meaning those kind of obstructions sometimes result in difficult measuring conditions. In addition, particular geometrical conditions between sun, target and sensor in combination with specific sea-state-conditions (wind speed, direction) can result in signal distorting mirroring effects, called sun glint, on the water surface. Other circumstances influencing the results include cloud shadows, shallow waters, disturbances by floating materials and mixed land-water pixels. Those pixels are flagged in the results, as will be discussed in Section 2.5.2.5. However, as clear as possible data images contribute to more reliable results. As such special care is required in terms of cloud coverage and sun glint. There are no guidelines for allowed cloud cover percentage, but a reduction in cloud coverage will improve the quality of the output products.

2.5.1.1.2. Water Quality Application Output
The output products the WQ app is able to generate are the following four main water quality parameters and an atmospheric correction:
TSS Total Suspended Solids
The total suspended solid is the dry-weight of scattered particles in the water column. The influence of TSS on aquatic ecology is for example the negative effects on plants and animals due to a reduction of available light.
A pigment included in phytoplankton cells that serves as a proxy for algae in natural waters. The amount of chlorophyll is a measure for water quality, as it relates to algae biomass which can for instance result in decreased levels of dissolved oxygen.
CDOM Colored Dissolved Organic Matter
CDOM absorbs light at the blue end of the visible spectrum, therefore being responsible for the water colour. Increasing CDOM, primarily caused by tannin due to decaying detritus, causes the water colour to go from blue, green to brown. The amount of CDOM importantly affects aqua systems: an overdose of CDOM may for instance result in a lack of available light for phytoplankton populations to grow, while phytoplankton is the basic of oceanic food chains and important for atmospheric oxygen.
SWT Surface Water Temperature
SWT speaks for itself, as it means the WQ app is able to determine the temperature at the surface of a water body at the top skin, also known as the epilimnic temperature. Water surface temperature knowledge is important in aquatic ecosystems to better determine and predict for instance wind streams introduced by temperature differences.
Atmospheric corrected product
Consists of satellite imagery which has been corrected for the effects of the atmosphere and scattering light from adjacent land and water surfaces. It provides reflectance data instead of scaled radiances or top-of-the atmosphere products and improves satellite imagery by minimizing effects of haze and atmospheric aerosols.